APS Book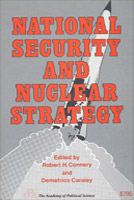 National Security and Nuclear Strategy
ROBERT H. CONNERY AND DEMETRIOS JAMES CARALEY, EDITORS
1984 · 204 pages

Paperback: $12.95 (APS Members: $8.40)

| | |
| --- | --- |
| Order: | |
ABOUT THIS BOOK
With a historical perspective, the essays in this book have a special importance at this time of intense concern about issues of national security.
TABLE OF CONTENTS
War and Peace
Just Wars: Doctrines and Instituions
Inis L. Claude, Jr.
Defining the National Interest
Anthony Lake
The Maintenance of Peace
Seymour Maxwell Finger
American Disappointment with the United Nations
John W. Holmes
Nuclear Superiority
The Origins of Massive Retaliation
Samuel F. Wells, Jr.
What in the Name of God Is Strategic Superiority?
Barry M. Blechman and Robert Powell
Why Nuclear Superiority Doesn't Matter
Robert Jervis
American Military Strategy
The Global Military Balance
Paul H. Nitze
Strategic Intelligence
Harry Howe Ransom
Surprise Despite Warning: Why Sudden Attacks Succeed
Richard K. Betts
Southern Africa: Testing Détente
Richard E. Bissell
Soviet Military Problems
Special Vulnerability of the Soviet Union
Gary L. Guertner
Eastern Europe and the Soviet Threat
Andrzej Korbonski