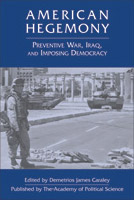 AMERICAN HEGEMONY
Preventive War, Iraq, and Imposing Democracy
DEMETRIOS JAMES CARALEY, EDITOR
May 2004 · 206 pages
ISBN10: 1-884853-04-8

Paperback: $24.50 (APS Members: $19.60)

ABOUT THIS BOOK
This book brings within one volume, essays that examine the future of American power, perspectives on preventive war, and implications for democracy. These essays go well beyond the military victories to ask the necessary next and more complex questions about Washington's plans for the reconstruction, stabilization, and even democratization of the invaded countries." The contributing scholars are well-respected and in the center of the debate over "American empire". They explore the ongoing discussion over how the world's only superpower should define and act out its role in the world.
TABLE OF CONTENTS
Editor's Foreword: Some Early Lessons
Demetrios James Caraley
Introduction
Walter LaFeber
PART I: THE RATIONALE FOR PREVENTIVE WAR
Understanding the Bush Doctrine
Robert Jervis
PART II: EXPERIENCES FROM THE FIRST PREVENTIVE WAR
Deciding on War Against Iraq: Institutional Failures
Louis Fisher
Misperceptions, the Media, and the Iraq War
Steven Kull, Clay Ramsay, and Evan Lewis
After Saddam: Regional Insecurity, Weapons of Mass Destruction, and Proliferation Pressures in Postwar Iraq
Andrew Flibbert
PART III: AMERICAN POWER AND THE IMPLICATIONS FOR DEMOCRACY
Limits of American Power
Joseph S. Nye, Jr.
The Rise of Europe, America's Changing Internationalism, and the End of U.S. Primacy
Charles A. Kupchan
How Countries Democratize
Samuel P. Huntington
Islam, Democracy, and Constitutional Liberalism
Fareed Zakaria