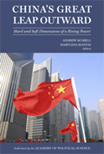 CHINA'S GREAT LEAP OUTWARD
Hard and Soft Dimensions of a Rising Power
ANDREW SCOBELL AND MARYLENA MANTAS, EDITORS
2014 · 200 pages

Paperback: $27.50 (APS Members: $22.00)

Digital eBook: $14.50 (APS Members: $11.60)
Available Format: PDF

FROM THE PUBLISHER'S PREFACE
This book is one of a series of publications released by the Academy of Political Science on timely subjects of special importance in the fields of public and international affairs. China's Great Leap Outward: Hard and Soft Dimensions of a Rising Power brings together essays with material that explores China's economic and military expansion in the Asia-Pacific region, as well as the core principles and motivations that guide China's growing influence in Latin America and Africa. We hope that the book, published both electronically and in print, will enlighten the ongoing debate over the future direction of Chinese foreign policy, both economic and military.
TABLE OF CONTENTS
Publisher's Preface
Demetrios James Caraley
PART I: OVERVIEW
Introduction
Andrew Scobell
The China Card: Playing Politics with Sino-American Relations
Peter Trubowitz and Jungkun Seo
PART II: HARD POWER
China's Porous Protectionism: The Changing Political Economy of Trade Policy
Scott Kennedy
China Invests in Myanmar: The Political Fallout of "Going Out" Next Door
Courtney Weatherby
Dragon Watching its Tail: China's Evolving Engagement Strategy in Africa
Lyle Morris and Larry Hanauer
PART III: SOFT POWER
China and Taiwan: Balance of Rivalry with Weapons of Mass Democratization
Andrew Scobell
Paper Tiger? Chinese Soft Power in East Asia
Gregory G. Holyk
A Hard Look at China's Soft Power in Latin America
R. Evan Ellis
ABOUT DIGITAL eBOOK EDITIONS
You will need a computer or device installed with either Adobe Reader or Adobe Digital Editions.
Adobe Reader is free and available for download at: http://get.adobe.com/reader. You will be able to view, print, and search our eBook PDF file. Use the bookmarks tab to navigate between chapters in the eBook.
Adobe Digital Editions is free and available for download at: http://www.adobe.com/products/digitaleditions. You will also be able to view, print, and search our eBook PDF file. Adobe Digital Editions has an added feature that allows you to add your own bookmarks.
No part of Academy of Political Science digital eBooks may be copied, downloaded, stored, further transmitted, transferred, distributed, altered, or otherwise used, in any form or by any means, except one stored electronic and one paper copy solely for the personal, noncommercial use of the purchaser. Contact the Academy for further permissions regarding the use of this work.