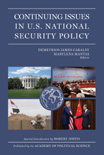 Continuing Issues in U.S. National Security Policy
DEMETRIOS JAMES CARALEY AND MARYLENA MANTAS, EDITORS
2016 · 248 Pages

Paperback: $27.50 (APS Members: $22.00)

Digital eBook: $14.50 (APS Members: $11.60)
Available Format: PDF

FROM THE PUBLISHER'S PREFACE
This book is one of a series of publications released by the Academy of Political Science on timely subjects of special importance in the fields of public and international affairs. Continuing Issues in U.S. National Security Policy brings together essays that explore topics of central and ongoing importance to American foreign policy. [A]n overview discuss[es] the intersection between the presidency and foreign policy issues, and how the selected essays can inform our understanding of critical foreign policy mistakes and opportunities.
TABLE OF CONTENTS
Publisher's Preface
Demetrios James Caraley
Introduction: Presidents and Foreign Policy
Robert Jervis
Will More Countries Become Democratic?
Samuel P. Huntington
Limits of American Power
Joseph S. Nye, Jr.
Understanding the Bush Doctrine: Preventive Wars and Regime Change
Robert Jervis
Globalization as a Security Strategy: Power and Vulnerability in the "China Model"
Andrew J. Nathan and Andrew Scobell
Creating a Disaster: NATO's Open Door Policy
Robert J. Art
The Role of Villain: Iran and U.S. Foreign Policy
Paul R. Pillar
Pakistani Opposition to American Drone Strikes
C. Christine Fair, Karl Kaltenthaler, and William J. Miller
The Rationality of Radical Islam
Quintan Wiktorowicz and Karl Kaltenthaler
The Soft Underbelly of American Primacy: Tactical Advantages of Terror
Richard K. Betts
ABOUT DIGITAL eBOOK EDITIONS
You will need a computer or device installed with either Adobe Reader or Adobe Digital Editions.
Adobe Reader is free and available for download at: http://get.adobe.com/reader. You will be able to view, print, and search our eBook PDF file. Use the bookmarks tab to navigate between chapters in the eBook.
Adobe Digital Editions is free and available for download at: http://www.adobe.com/products/digitaleditions. You will also be able to view, print, and search our eBook PDF file. Adobe Digital Editions has an added feature that allows you to add your own bookmarks.
No part of Academy of Political Science digital eBooks may be copied, downloaded, stored, further transmitted, transferred, distributed, altered, or otherwise used, in any form or by any means, except one stored electronic and one paper copy solely for the personal, noncommercial use of the purchaser. Contact the Academy for further permissions regarding the use of this work.