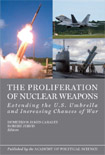 THE PROLIFERATION OF NUCLEAR WEAPONS
Extending the U.S. Umbrella and Increasing Chances of War
DEMETRIOS JAMES CARALEY AND ROBERT JERVIS, EDITORS
2018 · 204 Pages

Paperback: $27.50 (APS Members: $22.00)

Digital eBook: $14.50 (APS Members: $11.60)
Available Format: PDF

FROM THE PUBLISHER'S PREFACE
This book is one of a series of publications released by the Academy of Political Science on timely subjects of special importance in the fields of public and international affairs. The Proliferation of Nuclear Weapons: Extending the U.S. Umbrella and Increasing the Chance of War brings together essays from Political Science Quarterly that explore topics of central and ongoing importance in American nuclear policy toward the Middle East and Asia Pacific regions. In addition to examining the proliferation of nuclear capacity and the increased risk of nuclear war, the book explores the links between non-proliferation, arms control, and extended deterrence.
TABLE OF CONTENTS
Publisher's Preface
Demetrios James Caraley
Introduction
Robert Jervis
Nuclear Disarmament: Should America Lead?
Regina Karp
Friends Don't Let Friends Proliferate
Scott Helfstein
The India Lobby and the Nuclear Agreement with India
Dinshaw Mistry
Japan's Nuclear Hedge: Beyond "Allergy" and Breakout
Richard J. Samuels and James L. Schoff
The U.S. Nuclear Umbrella over South Korea: Nuclear Weapons and Extended Deterrence
Terence Roehrig
The Role of Villain: Iran and U.S. Foreign Policy
Paul R. Pillar
Conceptualizing Containment: The Iranian Threat and the Future of Gulf Security
Zachary K. Goldman and Mira Rapp-Hooper
ABOUT DIGITAL eBOOK EDITIONS
You will need a computer or device installed with either Adobe Reader or Adobe Digital Editions.
Adobe Reader is free and available for download at: http://get.adobe.com/reader. You will be able to view, print, and search our eBook PDF file. Use the bookmarks tab to navigate between chapters in the eBook.
Adobe Digital Editions is free and available for download at: http://www.adobe.com/products/digitaleditions. You will also be able to view, print, and search our eBook PDF file. Adobe Digital Editions has an added feature that allows you to add your own bookmarks.
No part of Academy of Political Science digital eBooks may be copied, downloaded, stored, further transmitted, transferred, distributed, altered, or otherwise used, in any form or by any means, except one stored electronic and one paper copy solely for the personal, noncommercial use of the purchaser. Contact the Academy for further permissions regarding the use of this work.