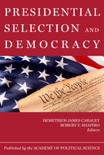 Presidential Selection and Democracy
DEMETRIOS JAMES CARALEY AND ROBERT Y. SHAPIRO, EDITORS
2019 · 228 Pages
ISBN13: 978-1-884853-14-2
ISBN10: 1-884853-14-5

Paperback: $27.50 (APS Members: $22.00)

Digital eBook: $14.50 (APS Members: $11.60)
Available Format: PDF

FROM THE INTRODUCTION
POLITICAL SCIENTISTS, ANALYSTS, AND PUNDITS have long debated how presidential candidates are selected by political parties in the United States. The articles in this volume cover a gamut of issues and questions that bear on how these candidates are selected and more generally on how primary and general elections promote democracy. These are recurring questions, but new ones have emerged as the result of the partisan conflict that has reached new heights in American politics.
TABLE OF CONTENTS
Preface
Demetrios James Caraley
Democracy, Presidential Selection, and America's New Partisan Politics
Robert Y. Shapiro
The Primary Purpose of Presidential Primaries
Dennis F. Thompson
Creating Better Heuristics for the Presidential Primary: The Citizen Assembly
Heather K. Gerken and Douglas B. Rand
A Modified National Primary: State Losers and Support for Changing the Presidential Nominating Process
Caroline J. Tolbert, Amanda Keller, and Todd Donovan
Are Caucuses Bad for Democracy?
Costas Panagopoulos
On To the Convention!
Jason Bello and Robert Y. Shapiro
On To the Convention, Again
Caroline Monahan and Robert Y. Shapiro
Incumbency Advantage in U.S. Presidential Elections: The Historical Record
David R. Mayhew
United States Senators as Presidential Candidates
Barry C. Burden
Why Americans Need a Constitutional Right to Vote for Presidential Electors
Demetrios James Caraley
Elections and Dilemmas of American Democratic Governance: Reflections
Demetrios James Caraley

ABOUT DIGITAL eBOOK EDITIONS
You will need a computer or device installed with either Adobe Reader or Adobe Digital Editions.
Adobe Reader is free and available for download at: http://get.adobe.com/reader. You will be able to view, print, and search our eBook PDF file. Use the bookmarks tab to navigate between chapters in the eBook.
Adobe Digital Editions is free and available for download at: http://www.adobe.com/products/digitaleditions. You will also be able to view, print, and search our eBook PDF file. Adobe Digital Editions has an added feature that allows you to add your own bookmarks.
No part of Academy of Political Science digital eBooks may be copied, downloaded, stored, further transmitted, transferred, distributed, altered, or otherwise used, in any form or by any means, except one stored electronic and one paper copy solely for the personal, noncommercial use of the purchaser. Contact the Academy for further permissions regarding the use of this work.