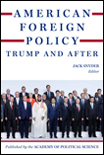 AMERICAN FOREIGN POLICY
Trump and After
JACK SNYDER, EDITOR
2021 · 160 Pages
ISBN13: 978-1-884853-15-9

Paperback: $27.50 (APS Members: $22.00)

Digital eBook: $14.50 (APS Members: $11.60)
Available Format: PDF

FROM THE PREFACE
THIS BOOK IS ONE OF A SERIES of publications released by the Academy of Political Science on timely subjects of special importance in the fields of public and international affairs. Articles from Political Science Quarterly comprise this volume. Contributors examine U.S. foreign policy during Donald Trump's presidency and significance for the future of transatlantic relations and great power competition.
FROM THE INTRODUCTION
FOR THE MOST PART, these articles see a mix of continuity and change across pre-Trump, Trump era, and post-Trump American foreign policy, though not necessarily the same mix. All give Trump low marks for his chaotic style in foreign policy, but by no means are all eager to settle back into the pre-Trump habits of U.S. leadership of the liberal international order. Some see Trumpian turbulence as having created opportunities to embark in new directions. Readers who are willing to risk the post-traumatic stress of revisiting Trump's diplomacy will be rewarded with these insights.
TABLE OF CONTENTS
Preface
Robert Y. Shapiro
Trump and After: Continuity and Change in American Foreign Policy
Jack Snyder
America First? Explaining Continuity and Change in Trump's Foreign Policy
Paul K. MacDonald
Making America Grate Again: The "Italianization" of American Politics and the Future of Transatlantic Relations in the Era of Donald J. Trump
Marco Clementi, David G. Haglund, and Andrea Locatelli
Why Trump Won't Retrench: The Militarist Redoubt in American Foreign Policy
Peter Harris
Policy or Pique? Trump and the Turn to Great Power Competition
Deborah Welch Larson
Foreign Policy Dilemmas and Opportunities for a New Administration: An Opinion Piece
Robert Jervis
After Trump: Enemies, Partisans, and Recovery
Christopher J. Fettweis

ABOUT DIGITAL eBOOK EDITIONS
You will need a computer or device installed with either Adobe Reader or Adobe Digital Editions.
Adobe Reader is free and available for download at: http://get.adobe.com/reader. You will be able to view, print, and search our eBook PDF file. Use the bookmarks tab to navigate between chapters in the eBook.
Adobe Digital Editions is free and available for download at: http://www.adobe.com/products/digitaleditions. You will also be able to view, print, and search our eBook PDF file. Adobe Digital Editions has an added feature that allows you to add your own bookmarks.
No part of Academy of Political Science digital eBooks may be copied, downloaded, stored, further transmitted, transferred, distributed, altered, or otherwise used, in any form or by any means, except one stored electronic and one paper copy solely for the personal, noncommercial use of the purchaser. Contact the Academy for further permissions regarding the use of this work.