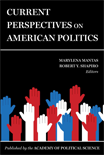 Current Perspectives on American Politics
MARYLENA MANTAS AND ROBERT Y. SHAPIRO, EDITORS
2022 · 268 Pages
ISBN13: 978-1-884853-18-0

Paperback: $27.50 (APS Members: $22.00)

Digital eBook: $14.50 (APS Members: $11.60)
Available Format: PDF

FROM THE INTRODUCTION
THIS BOOK IS ONE OF A SERIES of publications released by the Academy of Political Science on timely subjects of special importance in the fields of public and international affairs. Its purpose is to provide in a single collection the articles of leading American politics scholars published in Political Science Quarterly during the period of 2021 to 2022. The articles address questions on matters salient to the field of American politics, including governance, partisan conflict, democracy, race, voting, as well as inequality and ideology at the state and local levels. Even though the topics have permeated the field of American politics for quite some time, the discussions and analyses provided in these articles offer some important current perspectives. While these perspectives are certainly not exhaustive, many are ones for which the 2022 and 2024 elections have important ramifications and potential consequences.
TABLE OF CONTENTS
Current Perspectives on American Politics: Introduction
Marylena Mantas and Robert Y. Shapiro

I. PERSPECTIVES ON GOVERNANCE, PARTISAN CONFLICT, AND DEMOCRACY
America's Crisis of Democracy
William G. Howell and Terry M. Moe
State Building in Crisis Governance: Donald Trump and COVID-19
Nicholas F. Jacobs, Desmond King, and Sidney M. Milkis
How Can Presidents and the Executive Branch Preserve and Protect American Democracy? A Review Essay
Meena Bose
The Polarized American Electorate: The Rise of Partisan-Ideological Consistency and Its Consequences
Alan I. Abramowitz
How to Cure the Ills of Contemporary American Democracy? A Review Essay
Morris Fiorina
Can Social Movements Save American Democracy? A Review Essay
Robert C. Lieberman

II. PERSPECTIVES ON RACE AND VOTING
How to Win a "Long Game": The Voting Rights Act, the Republican Party, and the Politics of Counter-Enforcement
Adrienne Jones and Andrew Polsky
Contemporary Black Populism and the Development of Multiracial Electoral Coalitions: The 2018 Stacey Abrams and Andrew Gillum Gubernatorial Campaigns
Sharon D. Wright Austin

III. PERSPECTIVES ON INEQUALITY AND IDEOLOGY IN STATES AND LOCALITIES
Judging Inequality: State Supreme Courts and the Inequality Crisis
James L. Gibson and Michael J. Nelson
The Conservative Bias in America's Local Governments
Brian F. Schaffner, Jesse H. Rhodes, and Raymond J. La Raja

IV. PERSPECTIVES ON THE ACADEMIC-POLICY DIVIDE
Narrowing the Academic-Policy Divide: Will New Media Bridge the Gap?
Paul C. Avey, Michael C. Desch, Ana Petrova, and Steven Wilson

ABOUT DIGITAL eBOOK EDITIONS
You will need a computer or device installed with either Adobe Reader or Adobe Digital Editions.
Adobe Reader is free and available for download at: http://get.adobe.com/reader. You will be able to view, print, and search our eBook PDF file. Use the bookmarks tab to navigate between chapters in the eBook.
Adobe Digital Editions is free and available for download at: http://www.adobe.com/products/digitaleditions. You will also be able to view, print, and search our eBook PDF file. Adobe Digital Editions has an added feature that allows you to add your own bookmarks.
No part of Academy of Political Science digital eBooks may be copied, downloaded, stored, further transmitted, transferred, distributed, altered, or otherwise used, in any form or by any means, except one stored electronic and one paper copy solely for the personal, noncommercial use of the purchaser. Contact the Academy for further permissions regarding the use of this work.