APS Book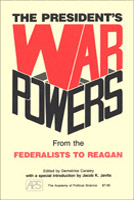 THE PRESIDENT'S WAR POWERS
From the Federalists to Reagan
DEMETRIOS JAMES CARALEY, EDITOR
1984 · 216 pages

Paperback: $12.95 (APS Members: $8.40)

| | |
| --- | --- |
| Order: | |
ABOUT THIS BOOK
Articles examine the ongoing debates over the wisdom of using American military force to pursue foreign policy objectives by assessing episodes of intense disagreements over the President's use of military force and other claimed prerogatives.
TABLE OF CONTENTS
The War Powers Resolution and the Constitution: A Special Introduction
Jacob K. Javits
Realism versus Moralism in Foreign Policy: Jefferson, Hamilton, and the Franco-British War
Albert H. Bowman
Who Declares War?: Madison in 1812
Abbot Smith
Lincoln and the Civil War
Lyman Bryson
The President and the Initiation of Hostilities: The Precedents of the Mexican and Spanish-American Wars
Charles C. Tansill
The President's Muzzling of Foreign Policy Critics: FDR and World War II
Richard W. Steele
A Comment on "FDR and His Foreign Policy Critics"
Arthur M. Schlesinger, Jr.
Seizure of Industry under War Powers: Truman and the Steel Mills
Lucius Wilmerding, Jr.
The Role of the National Security Council under Truman, Eisenhower, and Kennedy
Stanley L. Falk
The Vietnam War and the Reassertion of Congressional Power
Harvey G. Zeidenstein
The Reagan Administration and Revolutions in Central America
Walter LaFeber